Eye on Washington President Chosen to Attend White House Summit - United State of Women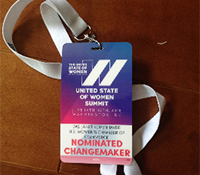 Eye on Washington's President Janet Kopenhaver was honored to be chosen as a delegate to the White House Summit - the United State of Women. Over 10,000 nominations were submitted for about 2,000 slots. Attendees were chosen on their successes and work towards achieving full equality for women in our nation today.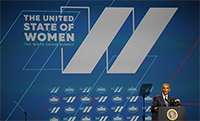 The Summit included themes of economic empowerment, health & wellness, educational opportunity, violence against women, entrepreneurship and innovation, along with leadership and civic engagement. Attendees were treated to inspiring remarks covering a wide range of topics by President Barack Obama, First Lady Michelle Obama, Vice President Joe Biden, Oprah Winfrey, and many other notable guests. Among the many issues discussed by President Obama were equal pay, paid family and sick leave and the importance of small business women owners.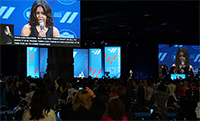 First Lady Michelle Obama was also interviewed by Oprah Winfrey on a whole host of questions including what she plans to do after leaving the White House, her experiences as First Lady and how she dealt with the sometimes nasty criticisms of her.